Description
Hornady Superformance 7mm-08 REM Rifle Ammo – 139 Grain | Lead-Free | CX | SP | 2910 fps | 20/ct
Hornady Superformance 7mm-08 Rem Centerfire Rifle Ammunition bullets offer a range of features, which can easily be controlled. This company has remained popular over the years because of the reliable ammo they produce, known for its deep penetration.
Hornady Superformance also uses progressive propellants that take your favorite CX bullets to levels of performance that are simply unattainable with conventional ammunition.
SPECIFICATIONS:
BRAND: HORNADY
BRAND FAMILY: SUPERFORMANCE
BULLET TYPE: PT
CALIBER: 7MM-08 REM
CASE MATERIAL: BRASS
GRAIN: 139 GR
ROUNDS: 20
VELOCITY: 2910 FPS
Images: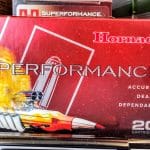 See other rifle ammo – Click here! 
See other 7mm-08 Rem ammo – Click here!
Warning
WARNING: Product is lead-free and is California compliant. For more information go to – P65Warnings.ca.gov