Description
Sellier & Bellot 6.5 Creedmoor – 140 Grain
Sellier and Bellot 6.5 Creedmoor is just another quality cartridge within Sellier & Bellot product line. First, going back as far as 1870, Sellier & Bellot continues to produce ammunition using high quality components in their semi-jacketed bullet consisting of a metallic jacket and a lead core. Secondly, the lead core is bare in front. When hitting the target, it gets deformed and produces a mushroom-like shape, which enhances the lethal effect. Thirdly, it is used for most types of rifle cartridges and, depending on caliber weight, it is used by hunters, competition shooters, law enforcement agencies and militaries around the world. Moreover, this ammunition is non-corrosive, in boxer primed, and has reloadable brass cases. Lastly, you get 5 – 20 Round Packs in a Reusable Mini Ammo Can!
***Limit 1 per Order***
SPECIFICATIONS:
BRAND: SELLIER & BELLOT
BRAND FAMILY: SELLIER & BELLOT
BULLET TYPE: FMJ-BT
CALIBER: 6.5MM CREEDMOOR
CASE MATERIAL: BRASS
GRAIN: 140 GR
ROUNDS: 100
VELOCITY: 2657 FPS
Images: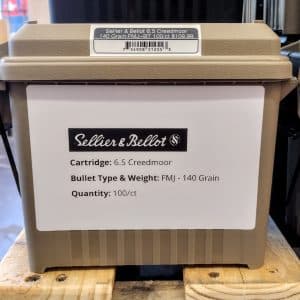 See other rifle ammo – Click here! 
See other 6.5mm Creedmoor rifle ammo – Click here!
Warning
WARNING: This product can expose you to lead. Which is known to the State of California to cause cancer and birth defects or other reproductive harm. For more information go to – P65Warnings.ca.gov