Description
Saltech 308 Win – 147 Grain | FMJ | 200/ct – Bulk Can
Saltech 308 Win cartridge is an ideal training and sports round. In addition, working with a wide variety of different rifles, the .308 Win is historically known for its accuracy and reliability. Also, this legendary round is offered in 3 different versions. Firstly, – RANGE, Secondly- TRAINING and Thirdly, TARGET.
Primarily, Saltech's range line focuses on reliability and affordability and is a great choice for practicing and recreational shooting at the range. Moreover, it utilizes a NON-MAGNETIC Tombac jacket, which is a high copper content & zinc alloy over a lead core.
Thirdly, this ammunition is new production, non-corrosive, in boxer-primed, reloadable Brass cases.
Lastly, Saltech AG is a private and independent SWISS enterprise set up in 2002 operating in the development, manufacturing and distribution of ammunition, with particular focus on, training & combat cartridges, sniper ammunition, and law enforcement ammunition.
***Limit 1 per Order***
SPECIFICATIONS:
BRAND: SALTECH
BRAND FAMILY: RANGE
BULLET TYPE: FMJ
CALIBER: .308 WIN/7.62NATO
CASE MATERIAL: BRASS
GRAIN: 147
ROUNDS: 200
VELOCITY:
Images: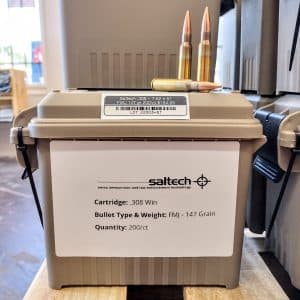 See other rifle ammo – Click here! 
See other .308 Win ammo – Click here!
Warning
WARNING: This product can expose you to lead. Which is known to the State of California to cause cancer and birth defects or other reproductive harm. For more information go to – P65Warnings.ca.gov