Description
Remington Core-Lokt 30-30 Win Rifle Ammo – 150 Grain | PSP | 2390 fps | 20/ct
Remington Core-Lokt 30-30 Win SPRG Centerfire Rifle Ammunition has earned an excellent reputation among deer hunters. Remington has led deer ammunition sales for six decades with this particular bullet design.
Core-Lokt bullets were the first controlled-expansion ones and are still one of the top options in terms of effectiveness. There is a solid lead core covered by a copper jacket, which is progressively tapered, allowing for weight retention and controlled expansion, making the bullets perfect for shooting game. There are also soft point (pointed and not) versions available, depending on your needs.
SPECIFICATIONS:
BRAND: REMINGTON
BRAND FAMILY: CORE-LOKT
BULLET TYPE: PSP
CALIBER: 30-30 WIN
CASE MATERIAL: BRASS
GRAIN: 150 GR
ROUNDS: 20
VELOCITY: 2390 FPS
Images: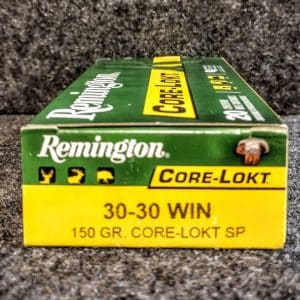 See other rifle ammo – Click here! 
See other 30-30 Win ammo – Click here!
Warning
WARNING: Product is lead-free and is California compliant. For more information go to – P65Warnings.ca.gov