Description
Prvi Partizan 243 Win Rifle Ammo – Rifle Line | 100 gr | SP | 2960 fps
Prvi Partizan 243 Win Rifle Ammo is just one of many options within PPU Centerfire Rifle Ammunition product lines, which are produced by Prvi Partizan. The PPU centerfire ammunition has been designed based on the requests of consumers combined with detailed research.
PPU offers multiple options for each centerfire rifle ammunition type, based on type of bullet, weight, and other factors, allowing shooters to select the type of ammo that reflects their exact needs. Two of the most popular types of rifle ammunition from PPU are Match Ammunition and GROM-THUNDER ammunition.
SPECIFICATIONS:
BRAND: PRVI PARTIZAN
BRAND FAMILY: RIFLE LINE
BULLET TYPE: SP
CALIBER: .243 WIN
CASE MATERIAL: BRASS
GRAIN: 100 GRAIN
ROUNDS: 20
VELOCITY: 2960 FPS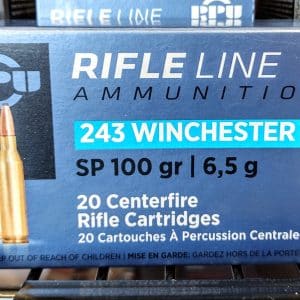 See other rifle ammo – Click here!
See other .243 Win rifle ammo – Click here!
Warning
WARNING: This product can expose you to lead. Which is known to the State of California to cause cancer and birth defects or other reproductive harm. For more information go to – P65Warnings.ca.gov