Description
PMC 380 Auto Handgun Ammo – 90 Grain | FMJ | 961 fps | 50/ct
PMC Bronze 380 Auto ammunition is an excellent and affordable choice for personal defense and range practice. In addition, each round offers optimum accuracy. When using PMC Bronze 380 Auto ammunition, users will appreciate the cycle quality of the brass FMJ casings. PMC 380 Auto handgun ammunition boasts a muzzle velocity of 961 feet per second and muzzle energy of 185-foot pounds. With this in mind, you can practice with real-world results and trust that your ammunition is up to the task.
As you can see, PMC Bronze family of products, offers reliable performance at an affordable price. Additionally, the lead core is enclosed by a strong metal jacket on this non-expanding, deep-penetrating bullet. Furthermore, in all types of handguns, PMC ammunition quality provides smooth and reliable feeding.
Equally important, all commercial ammunition produced by Poongsan Corporation for hunting and competition shooting, is gaining a solid reputation for excellent quality in the global market. At the same time, to meet the growing demand of sporting ammunition, PMC develops and exports over 100 different types of ammunition.
Additionally, this product is offered in 50 round packs and 1000 round cases. To save you money, PMC brass cases are able to be reloaded as many as five times.
SPECIFICATIONS:
BRAND: PMC
BRAND FAMILY: BRONZE
BULLET TYPE: FMJ
CALIBER: 380 AUTO
CASE MATERIAL: BRASS
GRAIN: 90 GR
ROUNDS: 50
VELOCITY: 961 FPS
Images: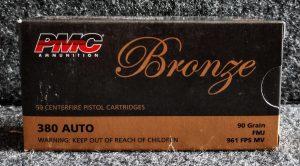 See all .380 auto ammo – click here
See other handgun ammo – click here
Warning
WARNING: This product can expose you to lead. Which is known to the State of California to cause cancer and birth defects or other reproductive harm. For more information go to – P65Warnings.ca.gov