Description
Hornady Match 7MM-PRC | 180 Grain | ELD-M | 2975 fps | 20/ct
HORNADY MATCH 7MM-PRC Product Features:
First, THE PERFECT TIP! -The Heat Shield™ tip on the ELD® Match bullet creates the perfect meplat and outperforms BTHP bullets.
Secondly, HORNADY® MATCH™ BULLETS – Hornady® Match™ rifle ammunition is loaded with the most accurate, consistent match bullets in the world. In addition, featuring our AMP® bullet jackets.
Thirdly, SPECIALLY SELECTED CASES – Cases are carefully selected based on strict criteria: wall thickness uniformity, internal capacity, case weight and consistent wall concentricity.
Fourthly, CAREFULLY MATCHED POWDER – Powder is matched carefully to each specific load for optimal pressure, velocity and consistent accuracy.
Lastly, STRINGENT QUALITY CONTROL – With extremely tight tolerances and strict quality control, all Hornady® Match™ ammunition features superior lot-to-lot consistency. Subsequently, from the bullet seating to the optimal charges and velocities, Hornady® Match™ ammunition is designed to live up to company founder, J.W. Hornady's original goal: "Ten bullets through one hole."
SPECIFICATIONS:
BRAND: HORNADY
BRAND FAMILY: MATCH
BULLET TYPE: PT (ELD-M)
CALIBER: 7MM PRC
CASE MATERIAL: BRASS
GRAIN: 180 GR
ROUNDS: 20
VELOCITY: 2975 FPS
Images: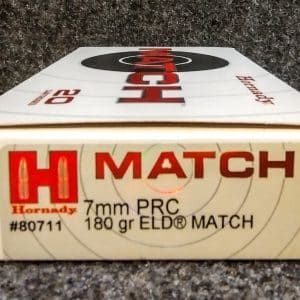 See other rifle ammo – Click here 
See other 7mm PRC ammo – Click Here
Warning
WARNING: This product can expose you to lead. Which is known to the State of California to cause cancer and birth defects or other reproductive harm. For more information go to – P65Warnings.ca.gov