Description
Hornady Precision Hunter .308 Win – 178 Grain | ELD-X | 2600 fps | 20/ct
Hornady Precision Hunter 308 Win ammo accuracy and terminal performance are the cornerstones of Hornady® Precision Hunter™ factory loaded ammunition. In addition, great care is given by Hornady® engineers to develop superior, match-accurate hunting loads that allow the ELD-X™ bullet to achieve maximum ballistic potential too. Moreover, propellants are clean burning and loaded to uniform capacity for consistent shot to shot results regardless of temperature. In summary, this attention to detail provides the highest levels of accuracy and performance uniformity for the most demanding and diverse hunting situations.
Features
For instance:
Includes a radically superior ELD-X™ bullet with patent-pending Heat Shield™ tip, Precision Hunter™ is the ideal load for all hunting situations. Namely, because of its effective terminal performance at ALL practical ranges.
Furthermore, best-in-class BCs- Verified by Doppler radar, the Heat Shield™ tip defies the effects of aerodynamic heating and retains its shape to maintain the highest in-class BC over its entire trajectory.
Match accurate hunting bullet- Streamlined secant ogive with optimum boattail design + highly concentric AMP® bullet jackets + patent pending Heat Shield™ tip combine for radically superior aerodynamic efficiency.
Devastating conventional range performance. Such as, high velocity, 0–400-yard impact, the bullet continually expands throughout its penetration path. The thick shank of the jacket and high Interlock® ring keep the core and jacket together providing 50-60% weight retention.
Additionally, best extended range terminal performance available- In this case, upon low velocity, 400+ yard impacts, the Heat Shield™ tip drives backward into the bullet to initiate expansion. Furthermore, exhibiting expansion with a large mushroom and 85-90% retained weight, the bullet provides deep penetration and large cavities. Also, available as component bullets or in factory loaded Precision Hunter™ ammunition.
SPECIFICATIONS:
BRAND: HORNADY
BRAND FAMILY: PRECISION HUNTER
BULLET TYPE: PT
CALIBER: .308 WIN
CASE MATERIAL: BRASS
GRAIN: 178
ROUNDS: 20
VELOCITY: 2600 FPS
Images: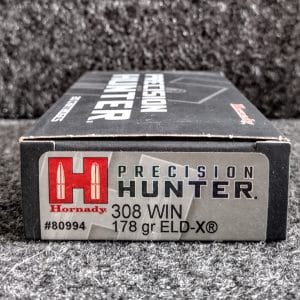 See other rifle ammo – Click here 
See other .308 Win ammo – Click Here
Warning
WARNING: This product can expose you to lead. Which is known to the State of California to cause cancer and birth defects or other reproductive harm. For more information go to – P65Warnings.ca.gov