Description
Hornady Match 6.5 Creedmoor Rifle Ammo – 147 Grain | ELD-M | 2695 fps | 20/ct
Hornady Match 6.5 Creedmoor 147gr ELD Rifle Ammo is loaded with Hornady's Extremely Low Drag Match bullet, and Hornady's Heat Shield polymer tip. In addition, each cartridge features a boxer-primed, brass case and a boattail bullet for enhanced round-to-round consistency. Moreover, Hornady selects its cases based on wall thickness uniformity, internal capacity, case weight, and consistent wall concentrically. Lastly, these loads deliver a 2695 FPS muzzle velocity with 2370 ft/lbs muzzle energy.
Hornady Match 6.5 Creedmoor Features:
For example:
Like, Specially Selected Cases
Not only, but also, cases are hand selected based on strict criteria: wall thickness uniformity, internal capacity, case weight and consistent wall concentricity. What's more, we get proper bullet seating, consistent charges and pressures, optimal velocity and repeatable accuracy.
AMP® (Advanced Manufacturing Process) Bullet Jackets
Specifically, these jackets represent a technological advancement in design, tooling and manufacturing. Also, developed by Hornady technicians, AMP Bullet Jackets feature near-zero wall thickness variation, resulting in unprecedented concentricity and uniformity throughout the jacket.
Powder
Further, powder is matched carefully to each specific load for optimal pressure, velocity and consistent accuracy.
Primers
Finally, like the powder, the primers we select are the highest quality available, perfectly matched to the load.
SPECIFICATIONS:
BRAND: HORNADY
BRAND FAMILY: MATCH
BULLET TYPE: PT
CALIBER: 6.5 CREEDMOOR
CASE MATERIAL: BRASS
GRAIN: 147 GR
ROUNDS: 20
VELOCITY: 2695 FPS
Images: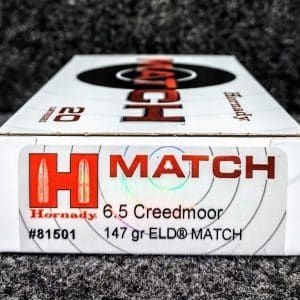 See other rifle ammo – Click here 
See other 6.5mm Creedmoor ammo – Click Here
Warning
WARNING: This product can expose you to lead. Which is known to the State of California to cause cancer and birth defects or other reproductive harm. For more information go to – P65Warnings.ca.gov