Description
Hornady Match .300 PRC – 225 Grain | ELD-M | 2810 fps | 20/ct
Hornady Match 300 PRC ammo is an intelligently crafted 21st century magnum cartridge. It is specifically designed to take advantage of long & heavy for caliber bullets. Moreover, it is capable of delivering the highest levels of accuracy and aerodynamic performance.
In addition, it is based on the 375 Ruger cartridge case. It is also non-belted and uses a standard .532" magnum bolt face and headspaces off the 30-degree shoulder. This results in better chamber alignment when compared against standard belted magnum cartridges and allows for improved stacking and feeding from fixed magazines.
The 300 PRC cartridge and chamber are designed concurrently combining to provide excellent alignment and highly tuned performance. Subsequently, the cartridge case is designed to use common, temperature stable, magnum speed rifle powders. Furthermore, producing extremely consistent velocity and increased barrel life compared to currently available magnum cartridges.
SPECIFICATIONS:
BRAND: HORNADY
BRAND FAMILY: MATCH
BULLET TYPE: PT
CALIBER: .300 PRC
CASE MATERIAL: BRASS
GRAIN: 225
ROUNDS: 20
VELOCITY: 2810 FPS
Images: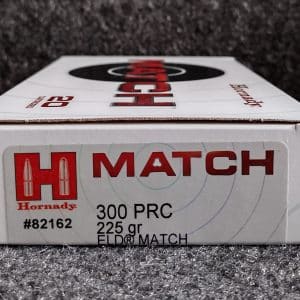 See other rifle ammo – Click here 
See other .300 PRC ammo – Click Here
Warning
WARNING: This product can expose you to lead. Which is known to the State of California to cause cancer and birth defects or other reproductive harm. For more information go to – P65Warnings.ca.gov