Description
Hornady Custom 300 Blackout Rifle Ammo – 110 Grain | Lead-Free| | CX | 2285 fps | 20/ct
Hornady Custom 300 AAC Blackout rifle ammo is hand inspected before packaging to ensure the highest levels of quality control. At Hornady, we manufacture Custom ammunition to give shooters and hunters the advantage of handloaded accuracy in a factory load.
SPECIFICATIONS:
BRAND: HORNADY
BRAND FAMILY: CUSTOM
BULLET TYPE: PT
CALIBER: .300 AAC BLACKOUT
CASE MATERIAL: BRASS
GRAIN: 110 GR
ROUNDS: 20
VELOCITY: 2285 FPS
Images: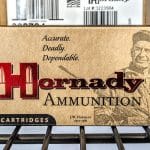 See other rifle ammo – Click here! 
See other 300 AAC Blackout ammo – Click here!
Warning
WARNING: N/A product is lead-free and is California compliant. For more information go to – P65Warnings.ca.gov