Description
Hornady 45-70 Gov't – LEVERevolution | 325 Grain | PT | 2050 fps | 20/ct
Hornady 45-70 Gov't LEVERevolution Centerfire Rifle Ammunition is an investment that can be relied upon, every time. Based on reliable customer reviews and test results, Hornady's Superformance loads are intended to have flatter trajectories and top shelf penetration power at a rock-bottom price.
It is not difficult to see why millions of rifle owners trust ammunition made by Hornady, and why you too will be trying out a Hornady bullet the next time you hit the range or go out hunting.
SPECIFICATIONS:
BRAND: HORNADY
BRAND FAMILY: LEVEREVOLUTION
BULLET TYPE: PT
CALIBER: 45-70 GOVT
CASE MATERIAL: BRASS
GRAIN: 325 GR
ROUNDS: 20
VELOCITY: 2050 FPS
Images: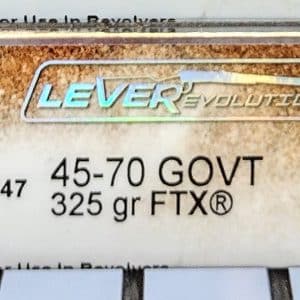 See other rifle ammo – Click here! 
See other 45-70 Gov't ammo – Click here!
Warning
WARNING: This product can expose you to lead. Which is known to the State of California to cause cancer and birth defects or other reproductive harm. For more information go to – P65Warnings.ca.gov