Description
G2 Research 9mm Luger – 100 Grain | Civic Duty – SCHP | 1100 fps | 20/ct
Typical bonded hollow point bullets over penetrate, leading to insufficient energy transfer, damage and trauma inside the intended target. G2 Research 9mm Luger has taken its innovative Trocar design of the solid copper R.I.P. fragmenting projectile and adapted it to the Civic Duty Expanding self-defense round. The Civic Duty defeats barriers as effectively as the R.I.P. and expands 2.5 times its initial diameter after coming into contact with a fluid medium. The Extreme Expansion of the Civic Duty leads to 100% energy transfer and total weight retention inside the intended target without concern of over penetration in CQB situations.
9-10? Penetration
100 gr. solid copper / lead free projectile
1230 FPS average (+10%)
SPECIFICATIONS:
BRAND: G2 RESEARCH
BRAND FAMILY: CIVIC DUTY
BULLET TYPE: FG
CALIBER: 9MM LUGER
CASE MATERIAL: BRASS
GRAIN: 92 GR
ROUNDS: 20
VELOCITY: 1265 FPS
Images: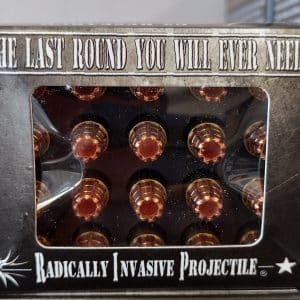 See other handgun ammo – Click here! 
See other 9mm Luger ammo – Click here!
Warning
WARNING: This product can expose you to lead. Which is known to the State of California to cause cancer and birth defects or other reproductive harm. For more information go to – P65Warnings.ca.gov