Description
Winchester 410 Bore – Elite Defender | 2.5″ | 3 Plated Defense Disc | BB | 750 fps | 10/ct
Winchester 410 Bore Elite Defender line of shotgun ammunition represents the combination of two excellent personal defense technologies – Winchester's unique Grex buffered copper-plated shot and the black oxide high-base head of the PDX1 design.
Simply put, these personal defense loads are equipped to deliver ultimate threat-stopping power at both short and long range. Best of all, these shells are backed by the 140 years of experience of all Winchester products, not to mention the company's commitment to quality.
SPECIFICATIONS:
BRAND: WINCHESTER
BRAND FAMILY: ELITE DEFENDER
CASE MATERIAL: PLASTIC
GAUGE: .410 GA
LOAD: 3 DISCS, 12 PLTS
ROUNDS: 10
SHOT SIZE: BB (3 Disc)
SHOTSHELL LENGTH: 2.5″
VELOCITY: 750 FPS
IMAGES: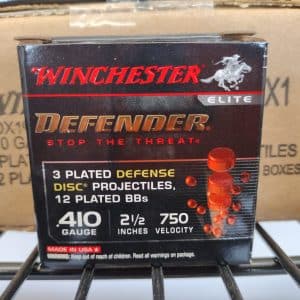 See other Shotshells – Click here!
See other 410 Bore Shotshells – Click here!
Warning
WARNING: This product can expose you to lead. Which is known to the State of California to cause cancer and birth defects or other reproductive harm. For more information go to – P65Warnings.ca.gov