Description
Hornady Precision Hunter 300-PRC | 212 Grain | ELD-X | 2860 fps | 20/ct
Hornady Precision Hunter 300-PRC is an intelligently crafted 21st century magnum cartridge specifically designed to take advantage of long, heavy for caliber bullets. Consequently, capable of delivering the highest levels of accuracy and aerodynamic performance.
Additionally, based on the 375 Ruger cartridge case, the 300 PRC is non-belted and uses a standard .532" magnum bolt face and headspaces off the 30-degree shoulder. Arguably, this results in better chamber alignment than standard belted magnum cartridges. In addition, allows for improved stacking and feeding from fixed magazines. The 300 PRC cartridge and chamber were designed concurrently combining to provide excellent alignment and highly tuned performance. Furthermore, the cartridge case is designed to use common, temperature stable, magnum speed rifle powders producing extremely consistent velocity and increased barrel life compared to currently available magnum cartridges.
Features:
FIRST – BEST-IN CLASS BCS: Verified by Doppler radar, the Heat Shield tip defies the effects of aerodynamic heating and retains its shape to maintain the highest in class BC over its entire trajectory.
SECONDLY – MATCH ACCURATE HUNTING BULLET: Streamlined secant ogive with optimum boattail design + highly concentric AMP bullet jackets + Heat Shield tip combine for radically superior aerodynamic efficiency.
THIRDLY – DEVASTATING CONVENTIONAL RANGE PERFORMANCE: With high velocity, 0-400 yard impact, the bullet continually expands throughout its penetration path. The thick shank of the jacket and high InterLock ring keep the core and jacket together providing 50-60% weight retention.
LASTLY – BEST EXTENDED RANGE TERMINAL PERFORMANCE AVAILABLE:Upon low velocity, 400+ yard impacts, the Heat Shield tip drives backward into the bullet to initiate expansion. Exhibiting controlled expansion with a large mushroom and 85-90% retained weight, the bullet provides deep penetration and large cavities. Available as component bullets or in factory loaded Precision Hunter ammunition.
SPECIFICATIONS:
BRAND: HORNADY
BRAND FAMILY: PRECISION HUNTER
BULLET TYPE: PT
CALIBER: .300 PRC
CASE MATERIAL: BRASS
GRAIN: 212 GRAIN
ROUNDS: 20
VELOCITY: 2860 FPS
Images: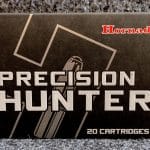 See other rifle ammo – Click here 
See other .300 PRC ammo – Click Here
Warning
WARNING: This product can expose you to lead. Which is known to the State of California to cause cancer and birth defects or other reproductive harm. For more information go to – P65Warnings.ca.gov